Webinar Recap: Everything You Want To Know About Separating With An Employee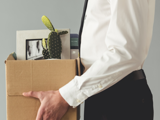 This month's live webinar featured a discussion on best practices for companies separating with team members and how to handle the difficult situations that come up during and after a termination.
Adams Keegan's Charles Rodriguez, Amanda McCollum, and Marty Barton discussed differences between various types of employee separation, and what employers can do to control the narrative after the fact.
Didn't catch the discussion on May 31? Here's what you need to know.
What is "Wrongful Termination" and How Can You Avoid It?
While there are many ways a termination could be deemed wrong, the actual definition refers to terminations resulting in legal action. To avoid this, state and federal laws should be carefully considered.
Terminations are often thought of as personal, but it can help managers and employers to think about termination as a business decision that is made for the overall benefit of the company.
Identify and Acknowledge Reason for Separation
Voluntary quitting occurs when the employee decides to quit, which may include circumstances like accepting a new job offer, becoming unsettled by workplace conditions, abandoning the job, or experiencing conflicts.
On the other hand, the employer may decide to let go of the employee because of company policy violation or diminishing performance. In any case, the reason for firing an employee should be well-thought out.
Prepare a Plan
One of the most vital parts of separation is to prepare and conduct a meeting with the employee. Important things to take into account when planning to separate include:
Deciding the format of notifying the employee of termination.
Determining who will be involved in the meeting.
Providing information or reasoning for separation.
Anticipating the employee's reaction to the situation.
The individual who knows the employee best should anticipate their potential questions and how to approach them.
Follow State-Specific Regulations
Be meticulous in checking for state-regulated requirements for separating, as they often vary. Keep in mind, also, that these rules apply to the state in which the employee resides. Often, these regulations include:
Documentation of termination,
Employee's last paycheck, and
Paid time off.
Overall, it's important for employers to be thorough and develop a thoughtful plan when considering separation with an employee. Controlling the narrative after termination will ensure that employer credibility, as well as that of the business, remains intact.