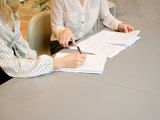 By Amanda McCollum – Vice president of human resources at Adams Keegan
During the height of the COVID-19 pandemic, employers were granted special considerations for completing Form I-9 for remote employees. These accommodations allowed for remote inspection of employee documentation via webcam or scanning, or deferring to in-person verification once employees returned to the office.
However, provisions for remote verifications that emerged during the COVID pandemic are ending, and a remote verification alternative has been released through the new Form I-9. Here's what you need to know about the changes.
Understanding Form I-9
The Form I-9 is a critical document used to verify the employment eligibility of all employees hired in the United States. Section 1 requires new hires to provide personal information by their first day of work for pay. Section 2 mandates employers to inspect and record identity and work authorization documents within three business days of the employee's first day of work.
Completing the I-9 accurately and on time is vital, as non-compliance can result in significant penalties. Properly verifying your employees' eligibility ensures a legal workforce and promotes a diverse and inclusive workplace. Employers must be familiar with Form I-9's requirements to meet federal guidelines and avoid potential legal issues.
The misconception around remote inspection
Even before the pandemic, many employers practiced distant inspection for their remote employees' documentation, assuming it was an allowable action. While you may be thinking, "That's how I've always done it," remote inspection wasn't authorized until April 2021.
It's important to know the difference between remote and physical inspection to ensure you are adhering to proper I-9 procedures.
Distant inspection for remote employees
Under the new Form I-9, employers who were enrolled and in good standing with E-Verify during the COVID-19 flexibilities period, March 20, 2020, to July 31, 2023, now have the option to use remote inspection of employee documents from August 1, 2023, onward. This entails reviewing and keeping copies of all documents, facilitating a live video interaction with the employee, and establishing an E-Verify case for new hires.
However, employers who were not enrolled in E-Verify by July 31, 2023, were required to conduct an in-person physical documentation examination by Aug. 30, 2023.
Physical inspection of Form I-9 for employees
With the expiration of special conditions, you may now be required to physically inspect new employee documentation. To accomplish this, you should designate an authorized agent to conduct the inspection with the remote employee in their presence. The chosen agent will then complete Section 2 of the I-9 form on your behalf, ensuring compliance with document verification requirements.
Choosing the right authorized agent is crucial, as any mistakes made during the inspection can result in penalties. This could technically be anyone you desire, such as a friend of the employee. However, consider hiring individuals who are knowledgeable about the intricacies of the I-9 form, such as employees from financial institutions, notary publics, or law officials, to minimize the risk of errors.
Once the documents are physically inspected, the authorized agent should note "documents physically examined" along with the date of inspection in either Section 2's additional information field or, if applicable, in Section 3 for reverification and rehires. By accurately documenting the inspection, you can maintain a clear record of compliance with I-9 requirements.
As the special considerations for completing I-9 forms for remote employees come to a close, it is crucial for employers to be well-prepared for the transition back to in-person inspections. If your organization has remote workers and intends to continue remote verification of employee documents, ensure that you meet all necessary requirements. Adopt a proactive approach and be ready to carry out document verification, promoting I-9 compliance and maintaining a legally sound workforce.