Streamlining Systems: Four Strategies for Human Resources Audits
This article was written by Charles Rodriguez and originally appeared in LODGING Magazine.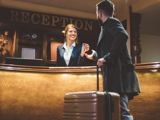 Streamlined systems should be top of mind during a human resources audit. This approach harnesses technology to prevent siloes and create holistic human resources processes—ranging from more efficient benefits management to rapid hiring and onboarding. The goal in doing this is for data to be centralized, flow seamlessly, and be more quickly accessible.
Rather than holding on to inefficient legacy systems until an error happens, it's better to be proactive and aware of the available platforms and solutions. Remember these four considerations throughout the audit process.
1. Emphasize dependability and responsiveness.
An effective HR system gets stakeholders from point A to points B, C, and D with as much ease and speed as possible. This is the goal regardless of the task in question.
Problems like paycheck delays or late responses to FMLA requests are big red flags, but look out for more subtle ones, too. Does training and onboarding, including completing necessary forms and paperwork, happen quickly, or are there always hiccups? Do team members regularly voice complaints or concerns about the HR system? How many times does data have to be entered on the front end? How well could the existing HR system absorb big, sudden changes in the company?
2. Know what the analytics say.
How complete of a picture is the data giving users with regard to turnover, compensation, engagement, or satisfaction levels? What does the existing data measure well? Where does it fall short—and how can the existing data be built upon?
If the analytics tell nothing, then data can't be used to properly monitor trends and drive improvements.
3. Imagine efficiencies in minutes and hours.
Time is money, and it is quite literally worth it for companies to think ambitiously when it comes to reducing the amount of time spent on manual HR tasks with a high-risk level for error. Ideally, data security and accuracy would give an organization the ability to rapidly comply with audits or other formal requests because the data is in one place and can be easily gathered.
4. Candidly assess capabilities and shortfalls.
Be honest about what works in the HR system and what doesn't. This may involve reviewing a recent mistake or error in-depth, as well as examining how HR functions flow and where problems typically arise. Also, consider how easy it is to comply with laws and regulations and whether processes and procedures are easily defined, explained, and followed. A business consultant or human resources information system provider can give some perspective on performing such an audit.
Now is the time to reconsider how well legacy systems or current HR solutions work, too. The risks of poor practices can be significant and costly. Manual and paper-based workflows, which companies often keep because they are perceived to be less expensive, can instead create more than $1 million in annual losses for some companies, according to research from Formstack. Inefficient or tedious processes also increase the risk of human error. Businesses can be held liable for such mistakes, especially when there is a direct cost to an employee from an error.
Some companies and their directors may be apprehensive about investing large sums of money to overhaul their HR systems, but it can be possible to ease into digitization gradually, either by outsourcing an HR function to a third-party provider or adopting a digital solution for a specific function. As long as either approach is properly integrated into existing company functions, it may unleash the enterprise's capabilities.