Recap: Adams Keegan 2023 Outlook Webinar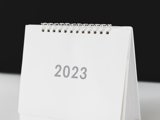 Recap: Adams Keegan 2023 Outlook Webinar
On January 31, 2023, both new and familiar topics in compliance and best practices were delivered by your Adams Keegan team:
Charles Rodriguez, our Vice President for Human Capital Advisory
HR Advisor Brandon Roland
Kristin Lockhart, our Vice President for Recruitment Services
Here's a brief recap of the updates.
New pay transparency laws
New York (including New York City), California, and Washington were among those with changes to employee-facing pay transparency laws. 
In New York, the new rules came into effect in November 2022, mandating that all jobs, promotions or transfer opportunities offered by businesses with four or more employees disclose both a job description and minimum/maximum salaries estimated in good faith. 
In California and Washington, the same threshold was 15 employees, and laws that came into effect on New Year's Day 2023 required employers to provide current team members with a payscale on demand, as well as including pay scales in job postings. Washington also requires information to be provided on benefits, PTO, commissions, and bonuses. And both California and Illinois updated pay data reporting requirements to their respective states. 
SECURE 2.0: Impact on retirement plans
Changes to 401(k) and 403(b) plans after December 29, 2022 have taken effect, requiring employers to automatically enroll participants in plans upon attaining eligibility. They will initially be enrolled at a deferral rate of at least 3% but not more than 10%. Employees must also be allowed to have an opt-out.
Changes to non-compete agreements on the horizon 
Federal Trade Commission proposals would implement a ban on non-compete agreements for the majority of employees, and a closer eye on how nondisclosure agreements are used to prevent them from becoming non-competes in all but name. Under the proposals, nondisclosure and confidentiality agreements would be banned relating to certain complaints such as sexual harassment.
In Washington and Colorado, annually escalating salary thresholds for which non-compete bans would be applicable are $116,593, and $112,500 respectively.
Register to prepare your business for the year ahead
The team addressed a number of questions that we received during the registration process, and covered both federal and state updates plus a number of management challenges as in years prior. If you missed the webinar, register and watch for a full review of the issues and prepare your business for what is to come.