New Form I-9 Available in Efficenter Onboarding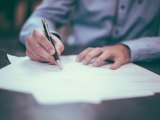 New Form I-9 Available in Efficenter Onboarding
The U.S. Citizenship and Immigration Services published a revised version of Form I-9, Employment Eligibility Verification. Among the improvements to the form is a checkbox employers enrolled in E-Verify can use to indicate they remotely examined new hire identity and employment authorization documents under an alternative procedure authorized by the Department of Homeland Security (DHS).
Note that the ability to examine Form I-9 documents remotely under the alternative procedure is contingent on employers retaining copies of the documents presented by the employee, conducting a live video interaction with the employee, and creating an E-Verify case for the employee.
The updated document is now available to be completed electronically for new hires through Efficenter Onboarding. Below are the required steps to complete remote documentation verification:
When completing section two of the employee's Form I-9 in Onboarding, request the employee transmit a copy of the Form I-9 document(s) to the employer.
Conduct a live video interaction with the employee presenting the same document(s) - front and back, if the document is two-sided - to ensure that the document(s) reasonably appear to be genuine and related to the employee.
Annotate on Form I-9 that the "Alternative Procedure" was used by checking the box in section two that states "Check here if you used an alternative procedure authorized by DHS to examine documents."
Once section two of the I-9 has been completed, the employer will be prompted to upload a clear and legible copy of the I-9 documents that were examined remotely. If the document is two sided, copies of both sides of the document must be retained.