May 2023: Restoring Hope at Memphis' Hope House
Adams Keegan team members volunteered this month at Memphis' Hope House.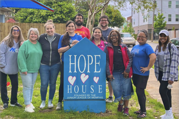 The mission of Hope House is to support children and families affected by poverty and its complications. The Adams Keegan team helped House House staff clean out the garden beds, repair damaged wood on the children's playground, restore a mural, and move furniture. We felt excited and fulfilled by the work and encourage anyone who wants to get involved to check out the Hope House website.