Leveraging unique differences for successful hotel branding
U.S. businesses and those they serve are facing familiar pressures, from continued supply chain disruptions to high inflation impacting consumer confidence.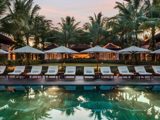 In the lodging sector, the past few years have witnessed a number of shifts – especially in employment and staffing. It's likely that change will remain a constant for the foreseeable future, meaning that preparation and foresight will be key.
As expectations for customer experiences change based on the variables discussed above, successful establishments will use this as an opportunity to maximize their unique differences and place this at the forefront of their branding strategy. Keeping pace with the competition will mean focusing work experiences on what truly sets brands apart. On a day-to-day level, examine how roles from guest services to facility maintenance leave a "personalized" mark on what guests see, hear, feel and remember. These brand ambassadors will play an especially large role in customer loyalty and word-of-mouth reputation. 
Understand key differentiators
To effectively leverage your unique differences, it is essential to identify and understand what sets your property or business model apart from others. This can be accomplished through a comprehensive analysis of your location, services, amenities, and target audience. Identify the features, qualities, or experiences that make your hotel exceptional. It could be a breathtaking view, a rich historical background, a focus on sustainability, a personalized service approach, or any other distinguishing factor. 
Additionally, surveys could be administered to guests via a QR code in the hotel rooms or as a part of the check-out process. Surveys could help your business gain a better understanding of what your guests value and feel sets your property apart from others. 
When you have unearthed your property's unique elements, you should embrace them as the foundation of your branding strategy. Through training programs and activities, make sure employees understand the significance of your distinct qualities and how they contribute to the overall guest experience.
Use employees to amplify your brand story
While highlighting your hotel's unique differences is essential for marketing purposes, it's equally important to ensure that your employees are aligned with your brand vision and understand how to deliver guest experiences that reflect your distinct qualities. Educating and empowering your staff is crucial for maintaining consistency and excellence in service. Help them connect emotionally with your unique differences by highlighting the history, values, and aspirations of your hotel. Encourage open discussions and questions to foster a deeper understanding and appreciation of your brand's essence. 
Incorporate storytelling
Storytelling plays a vital role in capturing the attention and loyalty of guests. Utilize various marketing channels, including social media, blogs, and your hotel website, to tell the story of your unique differences, and consider how employees can reinforce that on-site. Encourage them to share captivating narratives, behind-the-scenes moments, and guest testimonials that highlight the exceptional experiences your hotel offers – when it makes sense to do so. The more your representatives share your story, the more your unique differences become a part of your hotel's identity.
By investing in employee education and ensuring alignment with your unique branding, you create a cohesive and unified team that understands the brand's essence and delivers exceptional guest experiences. Educated employees become brand ambassadors, embodying your hotel's distinct qualities and contributing to the establishment's overall success in a highly competitive industry. Remember, embracing your unique differences allows you to not only attract new customers but also build a loyal following of guests who appreciate what makes your hotel truly special.