By Bob Adams, Kristin Lockhart, and Joe Ruzika
Five ways to address the hospitality talent gap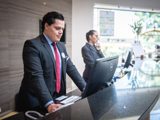 2022 presented plenty of challenges for the U.S. hospitality industry. Toward the end of last year, according to an industry estimate, nearly 90% of hotels continued to experience staffing shortages of some kind, notwithstanding a relative rebound in lodging demand. "Hotel guests are back," the Wall Street Journal shared. "But the workers aren't."
Although the labor market continues to be tight, there are plenty of challenges unique to hotels, restaurants, and other hospitality businesses. This includes a need for highly specialized skills and a reputation for high-stress environments.
Technology is playing a bigger role in day-to-day operations, but it cannot close every talent gap, and it can never be a replacement for the "human element" of personalized guest attention and care. It also doesn't change the fact that, because of market tightness, employers effectively pay a premium for anyone they do hire. 
But there is good news on the horizon. More growth is already materializing, both in the hotel business, as researchers at CBRE estimated a full recovery this year, and in restaurant subsectors like fast casual, where several big chains are going on hiring sprees. 
One effect of growth is giving hospitality businesses the fiscal and strategic breathing room to reimagine how they hire and train, the skills they can look for, and the type of businesses they want to build to attract fresh talent. Here are five ways they can accomplish that.
Reconsider what you're looking for in staff.
Many establishments previously made it clear they would require at least some prior experience working in hotels, restaurants, or similar environments. In some ways, this makes sense, because no two customer service roles are the same, and hospitality can present team members with very specific, unique challenges they might not encounter elsewhere.
But there's plenty of room for thinking outside the box. Some skills are transferable, and others can be learned through training, even without much stress, depending on what a prospective hire brings to the table. For instance, a mid-career worker with call center or online chat experience could likely transition easily to a hosting or reservations role. Roles responding to customer concerns or complaints could be filled by a recent graduate with a psychology degree. 
These are only hypotheticals, but they give some idea about how your organization can reconsider its requirements without making unacceptable compromises. And quite often, someone new to the industry can bring a fresh pair of eyes and much needed new approaches to old dilemmas. 
Bring the training experience forward.
Training is as much a psychological experience as a technical one. From your perspective, you want it to be short and fairly cost-effective, with the goal of getting a new hire on the frontlines and ready to work at least semi-independently in a matter of days. It's worth revitalizing your training processes if you have not done so in a while. 
One article recently reflected on hospitality shortages in France, the world's most touristed country, where a talent head at hospitality giant Accor was helping the company fill gaps by making offers without resumes or interviews. They used group challenges in lieu of both traditional prerequisites, with prospective hires allowed to dive into a real-world experience model. 
While this may not be practical for every company, it does provoke thought about getting creative with training, emphasizing what workers can expect to do on the job. Prospective hires who feel intimidated by some aspects of hospitality could have their fears alleviated early on in the process by seeing for themselves, under supervision, the range of experiences they will face day-to-day.
Show people where they can go.
This is generally a good tip across the board, regardless of industry. In tight labor markets especially, this reinforces the sense that this career path is purpose-driven. 
More job seekers than you think will be asking themselves if a job posting has room for growth. Is it clear to people what paths for advancement are available? If it looks like a dead end, effectively, they'll probably see it as a job rather than a career with passion or purpose. This isn't what you want. 
In some states, you'll already be required to post salary ranges for open roles. But it could benefit you to do this voluntarily – and candidates are likely to appreciate your transparency and honesty. 
Be honest about your retention capabilities.
This is where the tough love comes in. Organizations that do not have a good handle on culture, belonging, and other factors conducive to employee satisfaction and loyalty will have a harder time holding onto anyone they do recruit. 
Culture cannot be guesstimated. It has to be measured, tracked, nurtured, and improved. Skilled human resources or business consultants will be able to help you get started if you have not done a culture review recently, want to examine how current employees see themselves and their places in the business, or strive to improve training and onboarding processes to plug gaps. 
Embrace technology as a complement, not a substitute.
Digitizing human resource management, payroll, recruiting, and other processes to some degree has resulted in significant cost savings for hospitality businesses looking to reorient their operations. But this process tends to be most successful when those organizations take a complementary, and not substituting, approach to technology. 
It can save your business a lot of time and money to consider what can be automated, reducing stress, and freeing up the staff you do have to focus on creating unforgettable person-to-person experiences. This is the "human element" of hospitality that organizations are yearning for – and arguably concerned about losing – amid talent gaps and staffing crunches. With the right changes, leaders can even better prepare their existing staff and recruit new team members who bring a fresh perspective to the industry.